How to fix common problems
"Build an open playing field for everyone who loves technology, loves games and APK applications."

People installing Android apps from the APK file format are pretty straightforward. However, these are still big problems for those who are new to the APK file format. Through this article, we will help you fix the problems and problems you are facing.
1. unable to install the app
1.1 Error "Play Protect when installing APK file"
Use the Play Protect feature to keep apps safe and secure everyone's data from malicious apps, But this is actually a way google is trying to prevent users from installing APK titles and apps. When everyone installs, they will receive warning messages that make people nervous and upset, but everyone please stay calm and do not need to worry.
APK Versions are modified versions, so APK versions will not match the versions available on CH Play. So that's why when people install games or APK apps will show Play Protect warnings. If people want a smooth experience then the best way is to turn off Play Protect completely and ignore it.
To completely turn off Play Protect: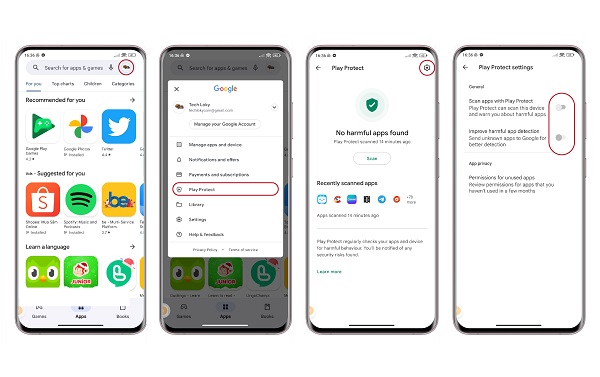 Step 1: Open the Google Play
Step 2: In the top right corner, click the profile icon
Step 3: Select Play Protect -> Setting
Step 4: Turn off both " Scan apps application using Play Protect " and " Improved detection of harmful apps "
1.2 Error "package conflicts with existing packages of the same name on Android"
The cause of the error is the Android operating system for installing apps using the .apk file, the user used to download the .apk file to the device, but did not delete the same application available on the device.
If people get this error, it's because they have this app installed on their device and that app or game was installed by a party other than TECHLOKY.
If You want to install and use the APK from TECHLOKY, you will have to uninstall the old APK that is already installed on your device.
1.3 "App could not be installed" error
If you have disabled Play Protect and uninstalled the old APK versions on your device which we talked about above then unfortunately the app is not compatible with your app.
2. The application does not work.
2.1. Error "Download Failed", "Black Screen", "Loading Stuck Screen", "Loading 0%"
If people encounter the above errors then the errors are common for OBB apps and apparently, everyone forgot to download and install the OBB file.
If people are still wondering and do not know what OBB File is, you can find out here.
What if even people have installed the OBB File and still get the error?
If this is the case, then try to install the version from CH Play, then uninstall it and reinstall the version of TECHLOKY!
2.3 Unable to log in with Facebook, Google…etc
With Facebook account failed or generated an error. At this point, you will be very worried that your data on that website or game/application is in danger of being inaccessible anymore.
This is a problem for all games and apps.
For your non-rooted devices, to log in to Facebook you need to delete the Facebook app, then log in through the browser.
If you already have a root on your device, you can log in with Google or Facebook normally and with no problem.