Can Duolingo Help You Become Fluent?
Dec 18 2022

Duolingo is a free language learning and text translation platform based on "crowdsourcing". Its design helps users to pass the lessons and also helps in translating text and documents.
The great benefits that Duolingo brings
Duolingo provides users with many engaging and amazing experiences, most notably the following features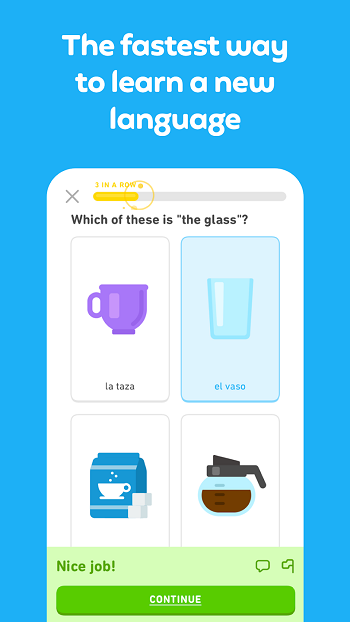 1. Duolingo and the ability to turn anything into a game
Duolingo is an app Apps and websites can turn learning into a great game.
First, the interface from the outside to the inside is very beautiful, with icons designed to look like you want to learn. In addition, the lessons are relatively short and are arranged quite spaced so that learners do not feel pressured.
Finally, Duolingo does a great job of giving the impression you're progressing, by leveling up after each lesson and letting you know how many levels are left to progress to the next. Basically, Duolingo tries its best to make learning like playing a game.
2. Duolingo and the divine deadline reminder
Many of you know Duolingo because of the memes about the app reminding the school deadline like a debt collector. Rumor has it that Duolingo has the ability to spam you more than Facebook and Messenger, this bluebird can also harm you physically and mentally if you do not learn English.
For those who only learn with strong measures, this is a useful feature.
3. Good background knowledge and very close translation
A common weakness in beginners is forgetting and not understanding the verb "to be". You will often have sentences like
• I sad ("missing to be")
• The cat cute (missing "to be")
• The number is increasing (excessive "to be")
• I is hot (false). to be")
This mistake is easy to understand because in some countries, you say "I am sad", or "cute cat". In English, nouns do not usually go before an adjective.
The second most common weakness is forgetting "s" for singular verbs, and "ed" for the past simple. The same reason is that in some countries there is absolutely no such thing.
Duolingo can help you avoid these errors, because not only does it require you to match grammatically correct sentences, Duolingo requires you to translate from English to your language and write "to be" out.
Finally, looking up words on Duolingo is extremely easy, you can learn almost without a dictionary.
Common limitations of Duolingo
Besides the advantages of the great functions mentioned above, Duolingo still has limitations. Please consider your level, and your learning needs along with a few small limitations below, and decide whether to use the app!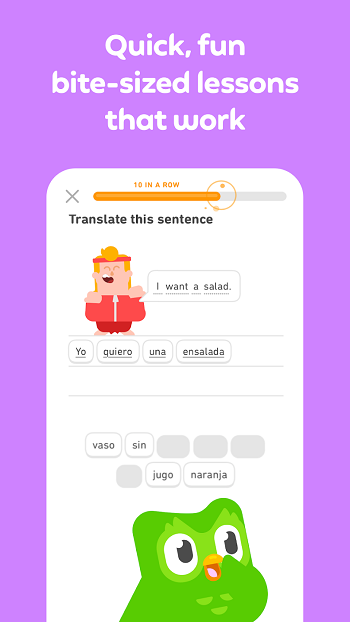 1. Duolingo does not help you improve your level above the basic
Most of the exercises in Duolingo's English program do not support the following knowledge and skills:
• The skill of reading a text and listening to a passage. conversation, which is also a skill that is mainly assessed in language proficiency tests (IELTS, TOEFL, PTE, ...).
• In-depth knowledge of grammar, from essential to advanced points. You won't really understand the difference between past simple and present perfect just by learning Duolingo.
• Speaking and writing skills. There isn't a single exercise I've seen that helps you directly improve your speaking and writing for an English test.
• Advanced vocabulary and topics. After finishing Duolingo, you probably still haven't learned the 1000 most common words in English, and the topic is quite limited.
If you learn all 5 levels of Duolingo and jump to do an IELTS mock test, I think it's hard to get above 4.0. On the contrary, a person who is at a fairly good level of English (IELTS>5.0) will quickly get bored while learning this application.
2. Duolingo does not have an English-English learning function
This is easy to understand because Duolingo's program is aimed at beginners learning English. However, continuous learning just by translating English to another language won't get you beyond the basic level and be able to think in English.
Specifically, this thinking in English affects reading speed and listening comprehension and reduces the tendency of translation when speaking and writing to make mistakes. In other words, thinking in English is a must to get to level B2 (IELTS 5.5-6.5).
Duolingo's outstanding features
1. Totally free course content
You can easily improve your language skills easily and completely for free with Duolingo. Besides English, Duolingo also offers you more than 30 other languages ​​worldwide.
2. The rich variety of exercises
Duolingo provides you with diverse lessons and exercises to help you not be bored in the learning process. Duolingo's system of exercises and tests helps you improve your vocabulary and listening skills.
3. Vocabulary is classified according to clear topics
Vocabulary is classified into different groups of words. Learning vocabulary in groups makes it easier for you to memorize vocabulary words, thereby increasing the effectiveness of vocabulary memorization.
4. Set a daily goal and remind yourself to complete it
When accessing the application, you will be able to choose a goal according to your learning needs. After a day you will have to study exercises to complete the plan. When completing your reward, it is diamonds to buy in-app supplies
5. Interesting reward system
After every lesson, if you perform well, Duolingo will reward you with gifts of medals. brand and diamond. You can get this gift in your profile.
6. Level Rankings
Leaderboards help you compete with your friends to be able to achieve higher rankings. You level up by studying and taking tests. After reaching the top 20 you will be placed in more competitive groups
So who should use Duolingo?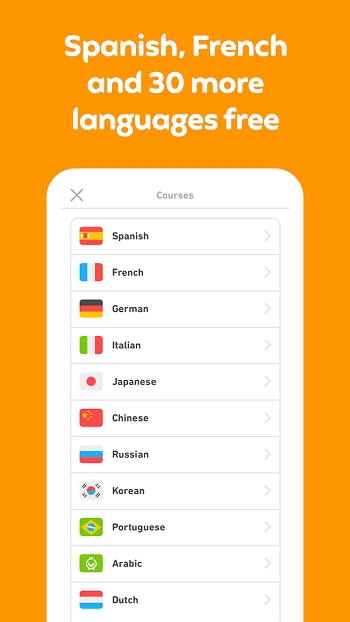 Duolingo's "golden" audience is people who start learning English at the age of 25 or older, which is past the age when the brain is most effective at absorbing knowledge. At this point, if the level of English is still at zero, it is necessary to have apps that allow slow learning to have a little background.
Since it only takes 20 minutes max a day, this is a good app for a busy audience.
If you are not in the above category, I think you can review the grammar, for example, fix the errors about to be. You won't need to learn "hi, hello" if you do the application's input test and can go directly to these sections.
POPULAR POSTS

Dec 18 2022
With the current booming social network wave, Tiktok must be a name that everyone knows. But... See More

Nov 11 2022
You are looking for a way to install CapCut APK for highly professional video editing, for... See More