Subway Surfers APK v3.18.1 Download Latest Version For Android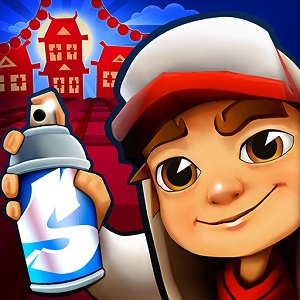 Name
Subway Surfers
Publisher
SYBO Games
Genre
Games
Size
180 MB
Version
3.18.1
Update
Dec 20, 2022
Download Subway Surfers APK – latest version – and enjoy one of the greatest games of today fully unlocked. Download now!
Download
If you are a lover of games with endless running routes, you cannot ignore Subway Surfers. Subway Surfers is one of the most exciting and best endless running games in mobile gaming history. It's quite clever to incorporate the boy Jake story into the game. Jake is a naughty boy who drew graffiti on the train carriage and was discovered by a fierce inspector with a baton and chased him. Since then, the chase for Jake has begun. And if you play Subway Surfers, you will be in the role of a boy Jake participating in that exciting and dramatic chase. Not only that, Subway Surfers also gives you a series of special features to help you on the way to escape the inspector and the graphics are quite impressive. Download now Subway Surfers to experience this thrilling chase.
About Subway Surfers Apk

Subway Surfers is a non-stop running game where you pass the inspector and his dog. The game has high-end graphics and background music to make you feel the thrill throughout.
You need to glide through trains, dodge obstacles, jump over gaps and collect coins. The game becomes more difficult as you continue to progress. You can use coins to buy skateboards and other things from the in-game store.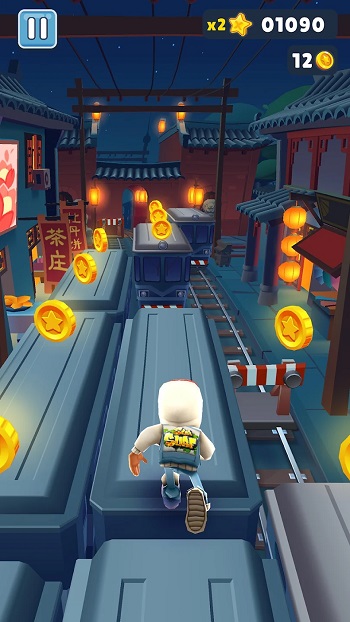 Subway Surfers also has a weekly hunting challenge, which you can win prizes by completing several missions. This is a great game to kill time as well as entertain.
Subway Surfers was released in 2012 when the mobile gaming industry was just getting started. Subway Surfers is still a classic game to this day.

Highlights of Subway Surfers Apk

Many characters

The game starts you can only character Jake. Jake is a wonderful but naughty kid who gets caught up in some sort of mess often. Jake try to bring fun and escape the authorities in this game. Jake's friends are Tricky, Fresh, Spike, Yutani, Frank, Frizzy and many more! Collect them all to get different types of game styles and outfits.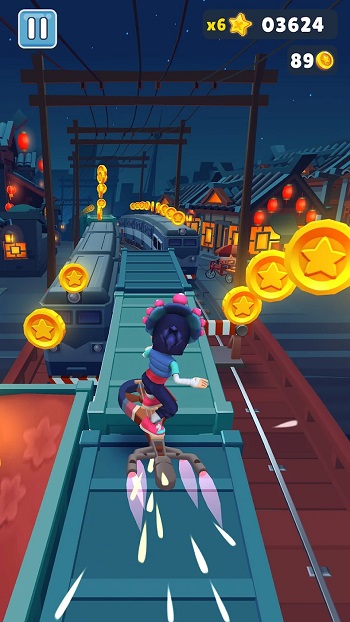 Overcoming obstacles

This game has simple controls, you just need to swipe left and right to change lanes and up and down to jump. Swiping down also allows you to roll on the ground to avoid obstacles. You have to be careful when jumping over the gaps because a slip could cause you to fall off the train and get stuck. The skateboard is the most useful because it allows you to hover over obstacles for a short period of time.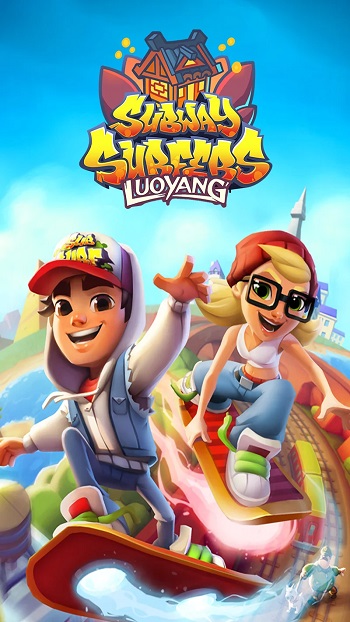 3d graphics

Subway Surfers offered 3D graphics at the time and it still performs well to this day compared to most games. The characters are well designed with cuteness in mind and the scenery and obstacles all look convincing. Try your best to pass.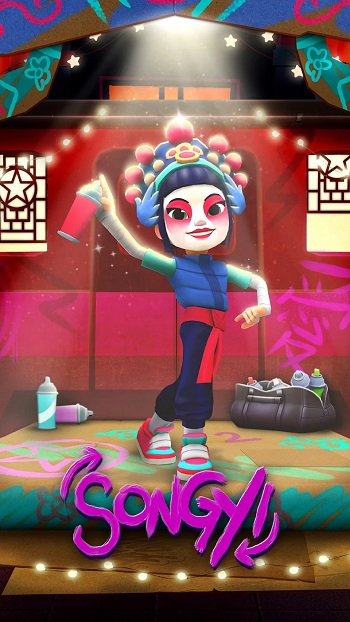 Quick action
Subway Surfers requires you to swipe quickly to change lanes and avoid obstacles. This is one way to improve your reflexes and coordination. Perform acrobatics! You can also perform acrobatic moves in the game by swiping up quickly. This is one to earn bonus points and travel longer distances. The more acrobatics you do, the more points you earn.

Download
Recommended for you